As Father's Day is nearly upon us, we thought we'd take a quick look at three important family friendly rights that fathers in your organisation might use. Being aware of such rights can help you to manage different situations in your workplace.
1. Paternity Leave
If your employee is the birth father of a child or is the partner of the child's mother/ primary adopter your employee may be eligible to take paternity leave. That is either one or two weeks off work  to care for the child or support the child's mother/ primary adopter.
To qualify for statutory paternity leave, your employee will need to have at least 26 weeks continuous employment with you ending with the 15th week before the baby is due, or the end of the week in which the child's adopter is notified of being matched with the child.
Employees can choose to start paternity leave on the day the child is born or a certain date or number of days after the birth, but it must be taken within 56 days of the date of the child's birth. Your employee will need to let you know of their intention to take paternity leave by the end of the 15th week before the baby is expected, unless this is not reasonably practicable.  The rules in adoption situations are slightly different so please contact us if you need information on this.
In terms of pay, your employee may also qualify for statutory paternity pay if the earnings requirement is met.
2. Parental Leave
Parental leave is a period of unpaid leave an employee can take to care for their child. It can be exercised until a child's 18th birthday.
The entitlement is to a maximum of 18 weeks parental leave per child, although employees are limited to taking no more than four weeks in a single year for each child. Unless they are caring for a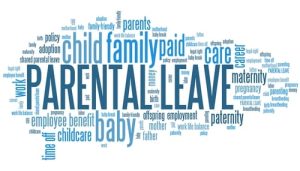 disabled child, parental leave must be taken in blocks of whole weeks.
Employees need to have at least one years' service to qualify for the right and will need to give a minimum of 21 days' notice of the time off they wish to take.
Unusually for a family friendly right, you can postpone the leave if you can show that the operation of your business would be unduly disrupted if your employee took leave at the time they have requested to take it. However, postponing leave is not a step to be taken lightly and there are rules that need to be followed so you should seek advice on your situation if you are considering postponement.
3. Dependent Care Leave
This is a day one right for an employee to take a reasonable amount of unpaid time off work where it is necessary in order to deal with certain emergencies involving their dependants. As you would expect, dependants include an employee's child so this is a right sometimes used by parents.
Time off can be taken:
To provide assistance if a dependant falls ill, gives birth, is injured or assaulted;
To make care arrangements for the provision of care for a dependant who is ill or injured;
In consequence of the death of a dependant;
To deal with the unexpected disruption, termination or breakdown of arrangements for the care of a dependant;
To deal with an unexpected incident which involves the employee's child during school (or another educational establishment's) hours.
Unlike other types of family friendly leave, as dependant care leave deals with emergencies, employees don't need to give advance notice that they will be taking time off. Instead, your employee should follow the usual absence reporting procedure if it's possible for them to do so.  If for some reason this cannot be done, your employee should notify you as soon as reasonably possible of the reason for their absence and how long they expect to be away from work.
A mistake employers can sometimes make is to discipline or dismiss an employee for taking dependent care leave. Often this is because the employer isn't aware of this right. It's important to bear in mind that employees are protected from being dismissed or subjected to any other detriment for taking dependant care leave and that they can complain to an employment tribunal if you subject them to such treatment.
Advice
It's always important to check your contracts of employment and to consider any custom and practice in your organisation when it comes to family friendly rights. Whilst we have had a look at some of the key points in relation to the statutory schemes, you may offer employees better terms than they are entitled to under statute, particularly when it comes to pay.
If you have any questions regarding family friendly rights or any other employment law matter, please do not hesitate to contact Kingfisher Professional Services Ltd as we are happy to help.