An Italian hospital employee has been in the news for allegedly skipping work for fifteen years – on full pay! The case came to light after a police investigation into absenteeism and suspected fraud in the Italian public sector. Part of the case is that the employee threatened his manager to stop her from filing a disciplinary report against him and that when she left, nobody noticed the employee's ongoing absence. Two HR managers are also reportedly being investigated for abuse of office, having not checked the "effective presence of an employee in service."
Whilst this case does sound extreme it also raises the issue that employees can sometimes fall through the cracks and become 'out of sight out of mind'. It's important that this doesn't happen in your organisation, so here's three areas of practice you may wish to review to help put your business in a more robust position.
1. 'AWOL' employees
When an employee is absent without leave and doesn't make contact regarding their absence ('AWOL') most employers will quite sensibly try to call the employee to find out what has happened and when they can expect the employee to return to work. But what's your organisation's practice if you have tried to make contact with the absent employee and left them messages but have still had no contact from them? Would you know what to do?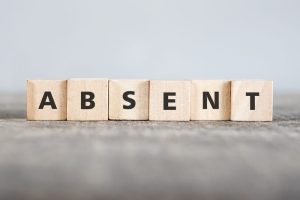 Generally, the next step for an employer in that situation will be to write to the employee giving them seven days to get in touch and warning them that if they do not, then they will be called to a disciplinary hearing/further action will be taken.
The way forward  – if there is still no contact from the employee –  will depend on the circumstances of the case. For an employee with two years' service or more, it will usually involve trying to address the issues via the disciplinary procedure as it is important that a fair process is followed.
As a brief outline, this will usually involve:
Inviting the employee to attend a disciplinary hearing
If they don't attend and there is still no contact, then inviting them a second time to attend a disciplinary hearing advising them that the meeting will be held in their absence if they do not attend and is likely to result in their dismissal
If there is still no attendance or contact, holding the hearing in the employee's absence
Giving a written outcome following the meeting (usually dismissal) and a right of appeal
If an employee in your organisation goes AWOL it's important to contact Kingfisher Professional Services Ltd for detailed and specific advice on the facts of your case before taking any action. We can provide advice throughout the process and support with appropriately drafted AWOL letters and disciplinary invitations. To help protect your organisation, it's important that no employee is dismissed without specific advice first being sought on the circumstances of the case.
2. Long term sickness absence
It's important that employees who are on long term sickness absence are managed appropriately and aren't forgotten about. It's surprising how fast time flies, especially if you have been really busy, with this in mind it's important to:
Make sure that cases of long term sickness absence are identified
Keep long term sickness absence cases under review so you can make sure they are being managed fairly and appropriately and the right steps are being taken at the right time, such as welfare meetings
Ensure that employees on long term sickness absence are being paid correctly and monitor when any entitlement e.g. to statutory sick pay will be exhausted so this is identified in good time
If you have an employee who has been away from work for a while due to long term sickness it is important to seek advice from Kingfisher Professional Services Ltd before taking steps to start managing the case.
3. Communication, record keeping and internal handovers
Ensuring appropriate communication and good record keeping internally is vital to help ensure that employees and HR matters don't fall through the cracks. If you haven't reviewed your practices in this area for a while, this might be a good opportunity to do so. It's also important not to overlook internal handover practice if someone who has employee management responsibilities is leaving the organisation. Employers should ensure a thorough and effective handover takes place.  It can sometimes be the case that when a manager is departing the focus of a handover is on business related matters such as ongoing projects or client work but it's important that HR matters don't get overlooked, particularly where a new manager will be picking up a process part way through, such as an AWOL process.
If you have any employment law matters you would like assistance with, please do not hesitate to contact Kingfisher Professional Services Ltd as we are happy to help.