With the announcement of dates from which more businesses in England will be able to open many employers will be considering the future of their organisation. For some, this may involve difficult considerations such as whether to propose to make any employees redundant.
For employers who are considering this route there are a number of matters it's useful to be aware of in the planning stage, some of which we have looked at in our earlier Legal Update Redundancy Fast Facts. One area employers can often find difficult is that of preparing a redundancy business case – this is where employers set out the relevant information regarding their situation and their redundancy proposals. It is the redundancy business case that helps employers to evidence that they have a genuine redundancy situation and it plays an important part in the consultation process with employees.
So, what are some of the common mistakes and how can employers avoid them?
• Not being clear about the link between the current business situation and the redundancy proposal – employers should explain the situation they are facing, how it has affected/is affecting the business, which departments/roles are impacted and why this has lead to the business proposing to make redundancies. Compare the following examples:
– Our restaurant business has been badly affected by Coronavirus and we are proposing to make all four waiting staff redundant
– We are a small restaurant that employs four kitchen staff, a manager and four waiting staff. We are proposing to change our business model to takeaway only as we do not believe we will be able to accommodate sufficient numbers of diners safely whilst remaining profitable once we are able to re-open fully. As customers will be placing orders via an app and collecting it directly from us, we are proposing to make all waiting staff redundant as these roles will no longer be required.
• Making redundancies seem a foregone conclusion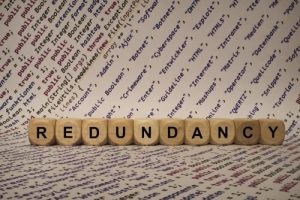 At this stage redundancies should just be a proposal – this is because employers will usually be required to consult employees before taking the decision to make them redundant. If the business case conveys that redundancies are definitely going to be made this can affect the fairness of the dismissal. Rather, it should usually be couched in terms of 'proposals' and employees should not be named. Whilst this can be tempting, particularly if there is only one role at risk and one employee who does that job, it needs to be remembered that the employer is proposing to make a particular job role redundant not the employee personally. Naming an employee can contribute to the outcome of the redundancy process being found to be pre-determined.
• Forgetting to explain what steps have/are being taken to try to avoid making redundancies
Redundancies should usually only be made as a last resort and for employees who have over two years service, they need to be done correctly or there is a risk of an unfair dismissal claim. Part of a fair redundancy process is looking for alternatives to redundancies, such as alternative work, ceasing to use agency workers/subcontractors where the work could be done by employees and therefore job/s saved. It is helpful for employers to explain what steps have / are being taken in this area in the business case.
If you are considering proposing redundancies in your organisation, Kingfisher Professional Services Ltd is here to help. We can provide you with a template redundancy business case which will help you to structure your own redundancy business case and include the necessary information. As redundancy can be a tricky area for employers your Employment Law Specialist can review your redundancy business case from an employment law perspective helping you to ensure you are on the right track.
At Kingfisher Professional Services Ltd we understand how stressful and difficult it can be for employers who are considering making redundancies. We can give practical advice throughout the process to help you get it right. If you are considering making redundancies in your organisation, please contact us before taking any action as we are here to help.