BendPak XPR series lifts use a teeth-meshing mechanism to lock the arm gears with either a welded or bolted connection to attach the arm restraint gear (as in the diagram below):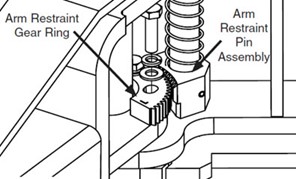 STOP using BendPak XPR series two-post vehicle lifts until fully checked and given the okay
An investigation that was conducted due to a fatal incident has revealed concerns with the manufacture and supply of the BendPak XPR series two-post lifts.
On some of the lifts with the arm restraint gear attached with bolts, the bolts DO NOT meet the required strength standard which increases the risk of a major incident occurring.
These bolts should be "8.8 class bolts". If the lift's arm restraint gear is attached using bolts that are marked "4.8", or bolts that are unmarked, then there is an increased risk of a major incident occurring, including a possibility a vehicle could fall from the lift, a situation that should demand attention.
STOP using the 2 post LIFT until it has been checked and given the OK;


Check to see if the gear arms on the lift are welded or bolted together;


If bolts are fitted then check to see if any of them are marked 4.8 class, or unmarked. The class marking should be clearly stamped on the bolt head. If there is no marking, then assume that it is not the correct class bolt;


Once it has been confirmed that the correct class bolt is fitted, then it is also important to ensure that they are tightened properly. Ensure that they are tightened to the correct torque of 33 ft/lb (or 45 NM).
Furthermore, this is a good opportunity to check a previous safety alert, issued by HSE (November 2018), covering the need to install a redesigned arm restraint gear.
The newer gear rings sit flush to the pin, have circular rather than slotted or elongated holes, and have the appearance of being machined rather than cast. If urgently required, you should contact your lift supplier to get replacement parts. 
Recommended Safety Measures
It is recommended that any two-post lifts are checked daily by the user, monthly by a competent supervisor/manager or trusted person, and thoroughly examined by a competent person on a regular basis as determined by use (as a minimum, every 12 months).
2 post lifts should be checked daily by:
Ensuring the support arm rubber mounts on the adjustable pick-up plate are in a serviceable condition;


Ensuring that the arm lock mechanism operates satisfactorily;


Checking that all controls operate.
Whilst this daily check is not required to be recorded, management may want a record purely to demonstrate it is being done, to emulate best practice, for their piece of mind and to use as evidence of due diligence. We can provide a template for recording daily checks.
Separate and additionally the following safety measures are recommended to be taken:
Ensure the lifts manufacturer's instructions are followed, especially with regard to its weight limits. Ensure all users are aware of the capacity of the lift, in particular, if it is suitable for larger vehicles (dimensions and stability);


Be aware of the correct jacking/lifting points for the vehicle in question and if in doubt check the vehicle user manual;


Ensure the lifting arms are carefully positioned at the correct jacking/lifting points for the vehicle before the lift starts;


Consider the weight distribution of the vehicle especially, if large parts (i.e., engine or gearbox) are removed from the vehicle or if you are applying force (i.e., forcing off rusted bolts) which could affect the stability of the vehicle lifted;


Lift the vehicle a short distance to check that the arms have locked by applying some force to them and the pads are properly positioned, before fully elevating the vehicle.
Users of two-post vehicle lifts should inspect and maintain them in accordance with the manufacturer's instructions.
This includes regular checks (at least monthly, according to the manual) on the tightness of all bolted connections to ensure they are correctly torqued.
See the User Manual for further information on required maintenance checks.  It is strongly recommended that these monthly checks are recorded as occurring.  
As required by the Lifting Operations and Lifting Equipment Regulations 1998 (LOLER) also ensure that the lift is subject to a regular "Thorough Examination", conducted by a suitably competent person at the frequency required by the legislation and according to its use.
This would also be a good time to check that;
Relevant risk assessments are current (less than 12 months since last review or creation) and still reflect the working conditions;


Activities are being conducted with regards to the risk the hazards present, with safe working procedures in place, understood and followed;


Training records are current and up-to-date.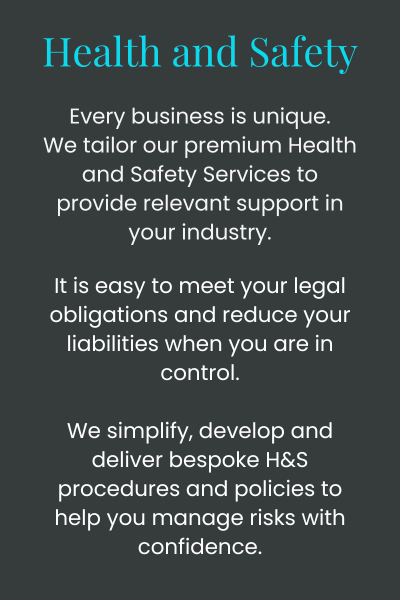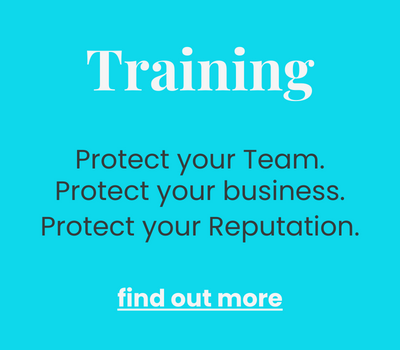 Subscribe To Our Weekly Newsletter
Notifications about changes in H&S Legislation, News, and service offers.