COVID-19: All businesses in England to be given rapid coronavirus tests free of charge.
COVID test kits will be made available free of charge to small firms as well as larger companies, in a move aimed at giving employers and staff peace of mind.
All businesses in England, including those with fewer than 50 employees, are able to sign up to the government's free COVID-19 workplace testing programme.
Lateral flow device (LFD) testing is a fast and simple way to test people who do not have symptoms of COVID-19, but who may still be spreading the virus.
The tests are easy to use and give results in 30 minutes. Those who test positive must immediately self-isolate to avoid passing the virus on to others.
Test and Results Explained
The test kit is a hand-held device with an absorbent pad at one end and a reading window at the other. Inside the device is a strip of test paper that changes colour in the presence of COVID-19 proteins (antigens).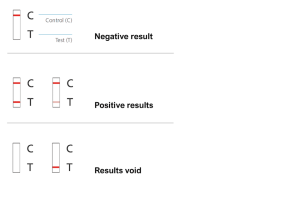 NEGATIVE RESULT: one line next to C shows the test is negative.
POSITIVE RESULT: two lines, one next to C and one next to T, even faint lines, shows the test is positive. You or your test provider must report this test result to the NHS.
VOID: no lines, or one line next to T, means the test is void. You will need to re-take with a fresh test kit.
If you get a positive result you must self-isolate immediately, preventing further transmission of the virus.
A negative result means that active coronavirus infection was not detected, at the time of the test. However, this does not guarantee that you do not have coronavirus. You should continue to follow coronavirus rules, including regular hand washing, social distancing and face coverings where required.
Before you start
You will need:
The name of your company.
Your company registration number.
An email address.
Note
This service is currently only available to businesses registered in England.
Start Registration
If you wish to register for the tests, click here:
https://www.gov.uk/get-workplace-coronavirus-tests